Magic Roulette Intuition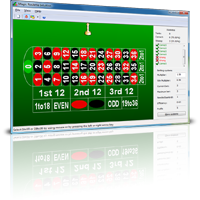 Magic Roulette Intuition training software is designed to develop intuition to win at the roulette wheel. If you train on a daily basis, you will learn to correctly deduce winning chances, dozens and columns. With time, as you will see, you will make more correct decisions than incorrect ones. And their number will keep growing. After one or two months, the amount of correct answers can reach 80 to 90%.
True, different people show very different results. Some perform better, some do worse. Those most persistent can by dint of systematic training achieve the 100% level of successful results. And such an effect is no rarity.
The fundamental thing is to have training sessions on a systematic basis. You will surely achieve your goal if you spend enough time training. Zero result is impossible.
How Magic Roulette Intuition Works
The software enables you to develop intuition to beat the roulette table, namely to learn to deduce winning numbers during tests. Currently you can train deducing even chances (1 to 18 and 19 to 36, Red and Black, Even and Odd), Dozens, Columns.
During training, after you make your choice, the marker moving to the winning number will show you the correct result. If your guess turns out to be incorrect, you will hear an unpleasant sound. That helps achieve better results because you will subconsciously be trying to avoid hearing that sound again.
During each test, the winning number is not influenced by your answers as the software uses an advanced random number generator.
There are a number of different ways to arrive at the right intuition-based answer. One of them is as follows. Close your eyes and relax. Breathe deeply and slowly. Try to see the correct answer in your mind's eye. Then open your eyes, stay relaxed, and choose the right chance.
Is it possible to win playing roulette?
Yes, it actually is, in the teeth of the 2.7% house edge (because of the Zero). That has been proved experimentally using trainers, and later on real and electronic roulettes. Incredible as it may sound, that is true. Read more: How to win at Roulette.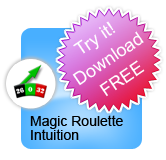 Intuition Training Software Features
Different training types: 1to18\19to36, Red\Black, Even\Odd, One Dozen, One Column
Fully customizable color scheme
Sounds for incorrect answers
Multilingual user interface. Currently supported languages are English and Russian
Displays Correct vs. Wrong answers statistics
Works under Windows NT/2000/XP/2003/Vista/7
Evaluation version limitations
Only 50 tests can be run. Each time tests are the same
Color scheme cannot be customized
How to purchase
After you purchase the software, you will be emailed a registration key that removes all evaluation version limitations.
Supported Payment Methods:
Secure Online Credit / Debit Card
Wire Transfer
PayPal
Phone Order
Fax Order
Mail/Check/Money Order
Purchase Order
Webmoney
All Transactions are completed via Encrypted Secure Channel. We use the PayPro Global, Inc., the independent provider of E-commerce services to ensure the safe and secure processing of orders. Please prevent emails from magicintuition.com and payproglobal.com from falling into the 'junk' or 'bulk' folder, by adding these domains into the exception rules.
Screenshots